Transparent Drawstring Bag
Description: 
Material: PVC
Dimension: H43 cm X L34cm (Customizable)
Colours: blue, orange, yellow, black and red
Shop these custom transparent drawstring bags now in time for your promotional events or giveaway. The bag is clear and select from accent colors that include blue, orange, yellow, black and red. Available in wholesale amounts that will help you reach a wide range of your target audience, these are great for hotels, spas, trade show events and giveaways everywhere. Our secure and easy to open totes are manufactured with durable PVC, polyester drawstring shoulder straps, metal eyelets, and large imprint areas that will draw attention to your logo design. Get started and extend your guests with printed courtesy gifts they'll love and save with everyday discount prices you'll find virtually unbeatable.
Eorange.sg
 

is one of the leading corporate gift suppliers in Singapore which provides the most affordable corporate gifts

 

in Singapore. Order your personalized

 

goodies bags from

 

eorange.sg

 

today and be guaranteed that we will offer only the lowest prices!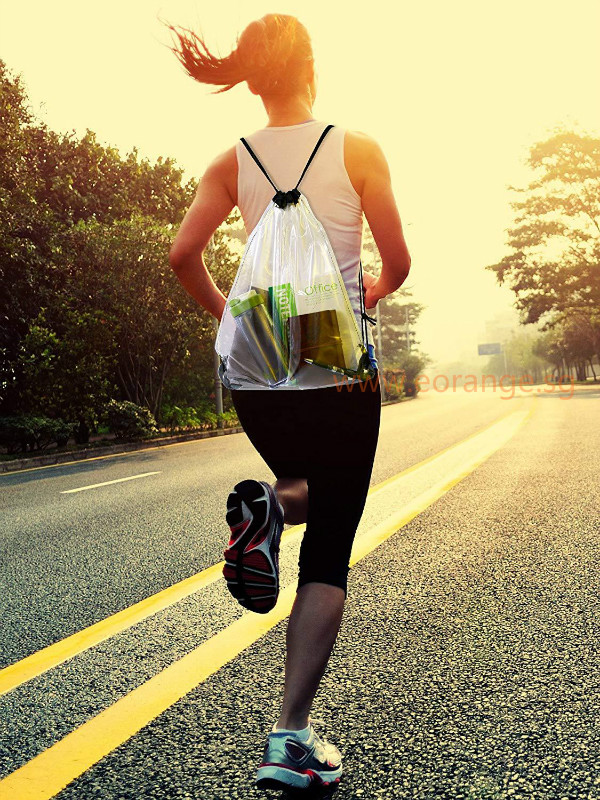 Shop our wholesale-priced variety of drawstring bags for corporate or promotional use!
Where to buy bulk bags with customized logo printing for your next corporate/promotional event? 
Now you can buy bulk drawstring bags and get great discounts at eorange.sg. The durable drawstring backpack we offer comes in multiple sizes and purposes, colours and styles. We guarantee you will find a style that will match the look or functions you want, from sports activities to school work, storage and more.
Pack up your sports equipment or other essentials in style with a drawstring backpack! Our drawstring bags offer easy accessibility and let you effortlessly pack and carry your clothes and other items around. We offer reusable drawstring bags made from different fabrics, including cotton, nylon, polyester and even mesh.
Large imprint areas offer plenty of space to customize the look of your drawstring backpacks for promotional use or events. The wholesale prices we offer make it possible for you to buy these bags in bulk for cheap prices, making it an ideal promotional item for large and small businesses.
Personalized drawstring bags have a variety of uses. Not only can they be used to transport sports equipment or gym kit, they also make sturdy shopping bags and lightweight backpacks. If you're heading out the door and you know you'll need a bag for your groceries, these handy bags can easily be balled up and stored without you having to lug them around on your arm.
Businesses tend to use drawstring bags for giveaways at trade events. This is because they are versatile, low-cost and can be used by people from all walks of life. Therefore, if you're hosting a corporate party or heading to a trade show, these drawstrings make the perfect gift back for all your giveaway items.
The great news is, we've got a huge selection of styles to choose from, including cinch backpacks, flap drawstring backpacks, canvas totes, sports bags and convention bags. We supply these in a choice of colors and materials, so no matter what your needs and preferences, you're bound to find something that suits.
It's easier than ever to customize your drawstring bag using our simple online tool. Whether you want to display your logo, an image or simply some text, eorange.sg will make the process as seamless as possible, resulting in you creating the perfect promotional product or sports bag. Here's what you get when you order with us:
A Vast Selection
We don't only offer one drawstring bag; you can choose from a variety of styles in our online catalogue. Whether you want to order sports bags for your football team, eco-friendly shopping bags for your food business or simply branded totes for your next business event, we have your needs covered. Here are just some of the drawstring bags we sell and what they can be used for:
Natural colour cotton drawstring bags: Strong and sturdy, perfect for transporting shopping or using in your retail business
Sublimation drawstring bags: This is where we use our sublimation process to print full-colour images onto neutral-coloured materials. This is the best option for complex designs with lots of colour or photographs.
Zipper pocket drawstring backpacks: Standard drawstring bags, just with a pocket for your phone and keys. Ideal to take to the gym.
Plastic drawstring backpack: Made from clear plastic, these bags are ideal for corporate giveaways when you want prospective clients to see what's inside. They can also be used at airports, and for exams when translucent cases are often requested.
Budget backpacks: Backpacks make great giveaways, but they are usually expensive. Luckily, these budget bags offer all the durability and reliability of a good backpack at a lower price.
Many more styles and colours readily available.
High-quality materials
Here at eorange.sg, we use only the highest quality materials for all our promotional items. The composition of your bag is important, you don't want it falling apart after a few uses. Luckily, all our bags are made using the most durable materials to make them last. Here are some of the materials used in the creation of our bags:
Jute: Strong and durable, jute bags are great for groceries and heavy equipment.
Cotton: High quality, soft and durable. Great for shopping bags and sports bags as it is easy to clean.
Plastic: Ideal for corporate events as it is the cheapest option. Reusable plastic bags are also great for sports, as they can be wiped clean.
Polyester: This material has a smooth feel and is resistant to creasing. Great for fashion bags and corporate events. Safe to machine wash and dry.
Polypropylene: This thermoplastic is excellent for packaging consumer products, as it is highly durable and protective.
Nylon: Nylon bags are strong, sturdy and often waterproof. These bags are great for travelling and commuting.
Experienced professionals
Here at eorange.sg, we are leading industry experts that pride ourselves on our high-quality products and great prices. With years of experience in creating personalized garments, stationery and other promotional items, and we are one of the leading suppliers in Singapore. Each one of our customized items is printed in-house, so you can be proud of your purchasing choices.
Low price guarantee
No matter what you order, we promise to provide the best prices on the market. This means that when you order your personalized drawstring bag, you can rest assured that you're staying within your budget and you've found the right price. We pride ourselves on our competitive pricing, but if you see one of our exact products sold for cheaper elsewhere, we won't just match it -- we'll beat it by 10%.
Make an impression with branded bags
Whatever your needs, preferences and budget requirements, eorange.sg is here to help you make an impression. Branded bags are an excellent way to bring your business or sports team the exposure it deserves and improve morale.